Non-Traded REITs may be Overvalued by 30%
– Updated May 10, 2023
Have you suffered losses investing in non-traded REITs at the recommendation of your financial advisor? If so, the securities attorneys at the White Law Group may be able to help you recover your investment losses by filing a FINRA Dispute Resolution Claim against the broker-dealer who sold you the investment. 
According to Investment News this week, non-traded REITs may be overvalued by as much as 30%, particularly those that invested in commercial real estate. 
With many American businesses still operating with some of their work-force at home post-pandemic, and rising interest rates, commercial real estate is taking a hit.  According to Investment News, the Dow Jones U.S. Real Estate Index was down almost 15.7%, over the past year, while the S&P 500 index increased a little more than a percentage point over the same period. Further, a report this month from real estate data firm CoStar Group Inc indicated that the U.S. office vacancy rate hit a new high of 12.9% in the first quarter. This number reportedly exceeds the peak during the 2008 financial crisis.
This could be bad news for investors in non-traded REITs considering the exceedingly limited share redemption programs these products have. See: Non-traded REITs "Liquidity Issue"
Real Estate Investment Trust (REIT) Overview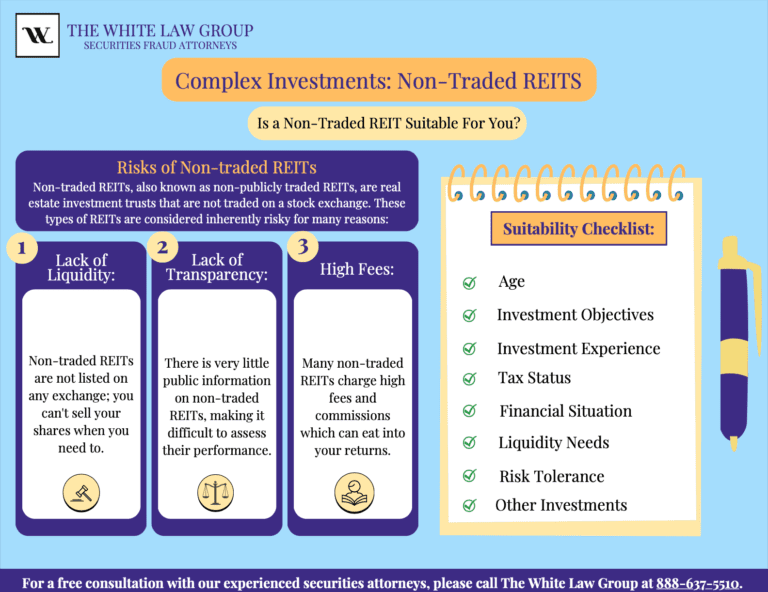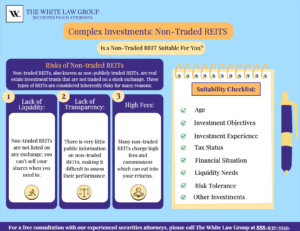 Investors often seek products offering more attractive yields during extended periods of low interest rates such as publicly registered non-traded real estate investment trust (REIT) also known as "non-traded REIT." 
A real estate investment trust, or REIT, is a corporation, trust or association that owns and often manages income-producing real estate. REITs pool the capital of numerous investors to purchase a portfolio of properties such as hotels, shopping centers or apartments. 
Although non-traded REITs and exchange-traded REITs are similar in some ways, they differ in several key respects. Shares of non-traded REITs do not trade on a national securities exchange which makes them illiquid often for periods of eight years or more. Early redemption of shares is usually limited, and fees associated with the sale of these products can be high and lessen total return. 
Unfortunately, while the periodic distributions can make these products appealing, in some cases, the investment may be heavily subsidized by borrowed funds and include a return of investor principle. This is very different from the dividends investors receive from large corporations that trade on national exchanges, which are typically derived solely from earnings. 
REITs can offer tax advantages. For instance, qualified REITs that meet Internal Revenue Service requirements can deduct distributions paid to shareholders from corporate taxable income, avoiding double taxation. The REIT must also distribute at least 90 percent of its taxable income to shareholders annually. These distributions are taxable to the extent of any ordinary income and capital gains included in the distribution, according to FINRA's recent investor alert. 
Non-Traded vs. Exchange Traded
There are two types of REITs, exchange-traded REITs, and non-traded REITs. Both are subject to the same IRS requirements, including distributing at least 90 percent of taxable income to shareholders. Like exchange-traded REITS, non-traded REITs are registered with the Securities and Exchange Commission and are required to make regular SEC disclosures, including filing a prospectus and quarterly (10-Q) and annual reports (10-K), all of which are publicly available through the SEC's EDGAR database. While these two types of REITs share these similarities, there are also numerous differences between them, as illustrated in the chart below provided by The Financial Industry Regulatory Authority (FINRA). 
 

Non-Traded REITs

 

Exchange-Traded REITs

 

Listing Status

 

Shares do not list on a national securities exchange.

 

Shares trade on a national securities exchange.

 

Secondary Market

 

Very limited. While a portion of total shares outstanding may be redeemable each year, subject to limitations, redemption offers may be priced below the purchase price or current price.

 

Exchange traded. Generally easy for investors to buy and sell.

 

Front-End Fees

 

Front-end fees that can be as much as 15% of the per share price. Those fees include selling compensation and expenses, which cannot exceed 10%, and additional offering and organizational costs.

 

Front-end underwriting fees in the form of a discount may be 7% or more of the offering proceeds. Investors who buy shares in the open market pay a brokerage commission.

 

Anticipated Source of Return

 

Investors typically seek income from distributions over a period of years. Upon liquidation, return of capital may be more or less than the original investment depending on the value of assets.

 

Investors typically seek capital appreciation based on prices at which REITs' shares trade on an exchange. REITs also may pay distributions to shareholders.

 
Firms that sell non-traded REITs are required to disclose some key aspects of the investment, including: that the securities are not listed on a securities exchange; that the securities are generally illiquid; and that, even if a customer is able to sell the securities, the price received may be less than the per share estimated value provided in the account statement. 
Private REITs
There is another type of REIT—a private REIT, or private-placement REIT—that also does not trade on an exchange, according to FINRA. Private REITs carry significant risk to investors. Not only are they unlisted, making them hard to value and trade, but they also generally are exempt from Securities Act registration. As such, private REITs are not subject to the same disclosure requirements as public non-traded REITs. The lack of disclosure documents makes it extremely difficult for investors to make an informed decision about the investment. Private REITS generally can be sold only to accredited investors, for instance those with a net worth more than $1 million. 
Risks of Investing in Non-Traded REITs
Although the selling points of non-traded REITs can be enticing, investors should balance these selling points against the numerous complexities and risks these investments carry. 
Distributions are not guaranteed and may exceed operating cash flow. Deciding whether to pay distributions and the amount of any distribution is within discretion of a REIT's Board of Directors in the exercise of its fiduciary duties. If a REIT issuer is behind or incomplete in its SEC filings this can be a red flag. 
Distributions for all REITS that are from current or accumulated earnings and profits are taxed as ordinary income, as opposed to the tax rate on qualified dividends, which generally carries a tax rate of 15 percent. But that rate can be 20 percent for people in the highest tax bracket or 0 percent for those in the lowest two tax brackets. If a portion of your distribution constitutes a return of capital, that portion is not taxed until your investment is sold or liquidated, at which time you will be taxed at capital gains rates. 
Non-traded REITs are illiquid. As their name implies, non-traded REITs have no public trading market. However, most non-traded REITS are structured as a "finite life investment," meaning that at the end of a given timeframe, the REIT is required either to list on a national securities exchange or liquidate. Even if a liquidity event takes place, there is no guarantee that the value of your investment will have gone up—and it may go down or lose all its value. If the value of the REIT's portfolio has changed materially during the offering period, then new investors may be paying a per-share price above or below the per-share net value of the underlying real estate. 
Early redemption is often difficult and may be expensive. Most public non-traded REIT offerings place limits on the number of shares that can be redeemed prior to liquidation. When investing in non-traded REITs investors must consider their short-term needs for capital before investing in a long-term, illiquid security and should carefully review the section explaining the terms and limitations of the REIT's share redemption plan. 
Due to the illiquid nature of the investment, investors may receive solicitations to sell their non-traded REIT investment outside of the sponsor's redemption program through a mini-tender offer. These offers are often for less than 5 percent of a company's stock, and they typically carry far fewer protections to investors than traditional tender offers. Investors can wind up receiving a price well below the sponsor's estimated per-share value or, if available, the early-redemption program price, according to the Financial Industry Regulatory Authority. 
Non-traded REITs can be expensive, and the fees add up quickly. Front-end fees generally come in two parts: Selling compensation and expenses, which cannot exceed 10 percent of the investment amount; and additional offering and organizational costs, sometimes referred to as "issuer costs," which are also paid from the offering proceeds.
For example, a 15 percent front-end fee on a $10,000 investment means that $8,500 is going to work for you at the time of investment. By comparison, the underwriting compensation associated with exchange-traded REITS is normally seven percent of the offering proceeds. 
According to state regulatory guidelines, the total for both types of fees cannot exceed 15 percent. FINRA guidelines also limit the total for both types of fees to 15 percent in offerings that are sold by an affiliated broker-dealer. 
Financial Advisor Fraud and Non-traded REITs 
Unfortunately, high commissions could be a motivating factor for unscrupulous financial advisors to sell a non-traded REIT regardless of whether the investment is in line with the client's investment objectives and profile.? Moreover, the total commissions and expenses make it difficult for the REIT to perform in line with the market. 
Unsuitability  
Brokers are required to make suitable investment recommendations that are in line with the customer's age, financial situation, investment objective and investment experience. Investment in a non-traded REIT may be unsuitable, or the amount or frequency of transactions may be excessive and therefore unsuitable for a given customer. 
Misrepresentation involving Non-traded REITs 
Sometimes a customer will complain that the broker said that something was a very safe investment, but the customer later discovered that in fact it was very risky. Customers rely upon the recommendations of financial advisors, and failure to properly disclose the risk is a misrepresentation or material omission. 
Unfortunately, many investors do not discover the truth in such cases until after they have incurred substantial losses and then realize that the investment was not so safe in the first place. But this should be distinguished from the situation of an experienced, wealthy investor who wants to speculate with a portion of his portfolio, understands the risk, is willing to take the risk, and is able to afford the risk. 
Securities Fraud Investigation of Non-traded REITs
The White Law Group has represented numerous investors in securities fraud claims against their brokerage firm for improper recommendations of Non-traded REITs. The firm is currently investigating the following non-traded REIT, among others: 
CIM Real Estate Finance Trust Tender Offer Price well below NAV 
Griffin Realty Trust Plans Spin-off, Liquidation as NAV Declines 
Healthcare Trust Inc. – HTI – Shareholder Lawsuits 
Non-traded REITs are rarely, if ever, suitable for short-term investors and even long-term investors must be willing to bear the risks of illiquidity. You should consider the front-end cost relative to the sales costs you would incur to buy and sell other securities during the same holding period as the life of the REIT. You may also want to consider how much share price appreciation and distributions you will need to receive to overcome these front-end charges 
Be wary of pitches or sales literature offering simplistic reasons to buy a REIT investment. Sales pitches might play up high yields and stability while glossing over the product's lack of liquidity, fees and other risks. Ask your advisor to explain why they think the non-traded REIT is the right investment for you and how it will help you achieve your specific investment goals. 
Always ask to review the initial prospectus and any prospectus supplements, as these documents will contain a more extensive and balanced discussion of the risks involved than any sales material you receive or pitches you hear. 
Remember to only invest if you are confident that the product can help you meet your investment objectives and you are comfortable with the associated risks. 
National Securities Attorneys – the White Law Group  
If you have concerns regarding your investment in a non-traded REIT and would like to speak with a securities attorney, please call The White Law Group at 888-637-5510. The White Law Group, LLC is a national securities fraud, securities arbitration, investor protection, and securities regulation/compliance law firm dedicated to helping investors in claims in all 50 states against their financial professional or brokerage firm. Since the firm launched in 2010, it has handled over 700 FINRA arbitration cases.            
Our firm represents investors in all types of securities related claims, including claims involving stock fraud, broker misrepresentation, churning, unsuitable investments, selling away, and unauthorized trading, among many others.             
With over 30 years of securities law experience, the White Law Group has the expertise to help investors defrauded in securities, investment and financial business transactions attempt to recover their investment losses.             
For more information on The White Law Group, visit whitesecuritieslaw.com.    
Tags:
Chicago REIT attorney
,
How do I sell my non-traded REIT?
,
illiquid REITs
,
non traded REIT investigation
,
non-traded REIT damages
,
non-traded REIT losses
,
non-traded REITs attorney
,
non-traded REITs lawsuit
,
non-traded REITs losses
,
private REITs
,
Public Non-traded REITs
,
REIT attorney
,
REIT redemptions
,
REITs commissions and fees
,
REITs mini tender offer
,
securities fraud attorney
,
What is a non-traded REIT?
,
why can't I sell my reit?
Last modified: June 21, 2023