Unauthorized Trading in your Brokerage Account
Have you suffered losses due to broker misconduct or broker negilgence? The unauthorized trading attorneys at the White Law Group may be able to help by filing a FINRA Dispute Resolution Claim against your brokerage firm.  FINRA is the self-regulator that oversees brokers and brokerage firms.
Is your Broker Trading without your Consent?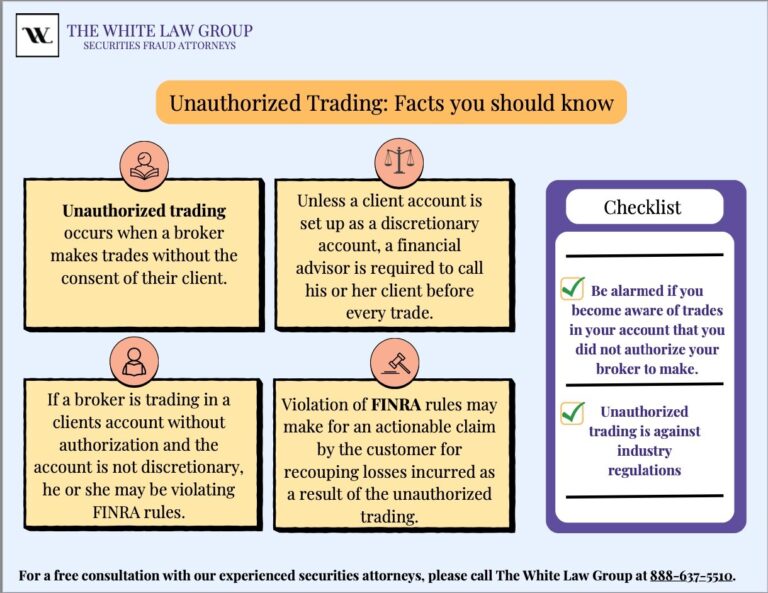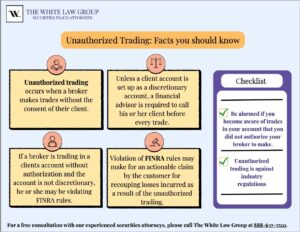 Unauthorized trading in brokerage accounts occurs when a broker buys or sells securities without your prior consent or authorization. This can happen in various ways, such as when a broker makes trades in your account without your knowledge or approval, or when a broker exceeds the trading authority that you have granted them.  
Unauthorized trading can be a serious violation of the broker's duty to act in your best interests. It can also result in financial losses, as the trades made without your knowledge or approval may not align with your investment objectives or risk tolerance.  
In addition, unauthorized trading can also violate securities industry regulations and rules. Broker-dealers are required to obtain prior written authorization from their clients before making any trades in their accounts, and they are also required to notify their clients promptly of any trades made in their accounts.  
If your broker engages in unauthorized trading, you may have legal recourse to recover any losses incurred as a result. You may be able to recover your losses by filing a FINRA arbitration claim. FINRA can investigate the matter and take disciplinary action against the broker or broker-dealer if necessary. You may want to consider speaking to our experienced unauthorized trading attorneys at the White Law Group who can guide you through the process.  
Discretionary vs Nondiscretionary Accounts
Discretionary and nondiscretionary accounts are two types of brokerage accounts with different levels of control and decision-making authority.  
A discretionary account is an account in which the broker or investment advisor has the authority to make trades and investment decisions on behalf of the account holder without seeking prior approval for each transaction. In other words, the account owner gives the broker the authority to make investment decisions without having to consult the account owner first. The broker has discretion to buy or sell securities or other investments in the account as they see fit, based on the client's investment objectives and risk tolerance.  
A nondiscretionary account is an account in which the account owner retains full control over investment decisions. The broker can offer investment advice and make recommendations, but the client must authorize each transaction before it can be executed. The broker cannot make trades or investment decisions without the client's explicit approval.  
The key difference between the two types of accounts is the level of decision-making authority. In a discretionary account, the broker has the power to make trades and investment decisions on behalf of the client without prior authorization. In a nondiscretionary account, the broker can only offer advice and recommendations, and the client must authorize each transaction. Discretionary accounts often require a higher level of trust between the client and broker, as the broker has greater control over investment decisions. Discretionary accounts also often come with higher fees, as the broker is assuming greater responsibility for managing the account.  
FINRA Rules regarding Unauthorized Trading
FINRA (Financial Industry Regulatory Authority) is a self-regulatory organization that oversees the activities of broker-dealers and their associated persons in the United States. One of FINRA's primary roles is to enforce rules and regulations designed to protect investors and maintain market integrity.  
FINRA Rule 3260 requires broker-dealers to obtain written authorization from their clients before executing any transactions in their accounts. The rule also requires broker-dealers to notify clients promptly of any trade executed in their account.  
If you have been the victim of unauthorized trading you may be able to recover your losses through FINRA's arbitration process. This process allows investors to seek compensation for damages resulting from broker misconduct, including unauthorized trading.  
Broker Misconduct involving Unauthorized Trading
If a broker engages in unauthorized trading, FINRA may take disciplinary action against the broker and the broker-dealer. This could include fines, suspensions, or revocation of the broker's license to practice in the securities industry.   
In March 2023, FINRA reportedly suspended a former Laidlaw and Company rep after allegations that he exercised discretionary authority in customer accounts. The findings stated that the customers did not provide prior written authorization for Grant to exercise discretion in their accounts. In addition, the rep;s member firm did not accept any of the customer accounts as discretionary accounts. FINRA ordered a fine of $5,000 and a one-month suspension.   
Former Raymond James rep, James "Eddie" Lyons, who was reportedly fired by the firm, has had numerous customer complaints filed against him for allegations of unauthorized trading. The most recent allegations are from a claim filed this month alleged unauthorized trading in customer accounts in connection with high-risk oil and gas investments. FINRA reportedly barred Lyons in 2018 after he failed to provide information in its investigation.  
In July 2022, FINRA reportedly barred broker William "Ed" Torriente for allegedly placing transactions in client accounts that the clients were not aware of. The findings allegedly stated that the firm later filed a Form U5 Amendment for Torriente disclosing two different customer complaints alleging, among other things, that he had exercised unauthorized discretion.   
Two of the customer complaints were seeking $500,000 in damages for allegations of "unauthorized discretion," according to the rep's FINRA broker report.  
In March 2022, FINRA sanctioned a Cadaret, Grant & Co. broker, for allegations that he executed trades without investor authorization — for the second time. In both cases, the representative entered into an Acceptance, Waiver, and Consent (AWC) with FINRA to settle the allegations.    
As we reported in January 2021, FINRA reportedly suspended JP Morgan advisor Trevor Rahn for 18 months after allegations that he implemented an unauthorized and unsuitable trading strategy for customer orders. He was also fined $10,000.  Rahn purportedly engaged in a pattern of breaking customer orders for execution from January 2014 to September 2018, according to FINRA.  
Rahn allegedly recommended an average pricing investment strategy to his customers in which he executed orders by breaking them into multiple small trades, each generating a separate commission, yet had no reasonable basis to believe this strategy was suitable for his customers. He also purportedly exercised time and price discretion on over 7,500 trades without the required authorization, according to FINRA.  
Unauthorized Trading Attorneys – Free Consultation
If your broker was making trades in your account without your knowledge or permission, the unauthorized trading attorneys at the White Law Group may be able to help you.  With a phone call to our offices, the firm can review the details of your situation and evaluate whether you have a viable legal case against your brokerage firm. We can assess the strength of your evidence and help you determine your legal options.  
If we determines that you have a strong case, we can file a FINRA complaint on your behalf.  If your case cannot be resolved through a complaint, our firm can represent you in arbitration or litigation. We can argue your case before a panel of arbitrators or in court, advocating for your rights and seeking compensation for any losses you may have suffered as a result of the unauthorized trades.  
In some cases, it may be possible to negotiate a settlement with the broker or brokerage firm without going to arbitration or litigation. The securities fraud attorneys at the White Law Group can help you negotiate a fair settlement that compensates you for your losses.  
If you are concerned about investment losses in your account, the unauthorized trading attorneys at the White Law Group may be able to help you.
To speak with a securities attorney, please call the offices of the White Law Group at (888)637-5510.
 The White Law Group, LLC is a national securities fraud, securities arbitration, investor protection, and securities regulation/compliance law firm dedicated to helping investors in claims in all 50 states against their financial professional or brokerage firm. Since the firm launched in 2010, it has handled over 700 FINRA arbitration cases.  The firm has offices in Seattle, Washington and Chicago, Illinois and reviews securities cases across the country.      
Tags:
Cadaret
,
discretionary trading
,
Eddie lyons
,
FINRA arbitration
,
finra attorneys
,
finra rule 3260
,
Grant & Co. broker
,
Laidlaw and co.
,
securities attorneys
,
trevor rahn
,
unathorized trading
Last modified: September 26, 2023