FINRA Arbitration Attorney for Mediation and FINRA Dispute Resolution
If you're concerned about investment losses with your financial advisor due to broker negligence or fraud the FINRA arbitration attorneys at the White Law Group may be able to help you.  
The Financial Industry Regulatory Authority (FINRA), the self-regulator of the securities industry, operates the largest dispute resolution forum in the securities industry.  In fact, FINRA Dispute Resolution is the forum for almost all disputes between investors, brokerage firms and individual brokers.  This is mainly because the vast majority of brokerage firms have mandatory arbitration clauses in their account agreements that require investors to file their disputes through FINRA.    
FINRA Arbitration – Simple Alternative to Litigation 
FINRA Arbitration is a formal alternative to litigation in which two or more parties select a neutral arbitrator to resolve a dispute. It is like going to court, but it is usually faster, cheaper and less complex than litigation.  FINRA Arbitration has its own specific rules of procedure and operation, including rules that cover deadlines, discovery, and identification of witnesses.  To see learn more, see the FINRA Code of Arbitration Procedure.   An experienced FINRA arbitration attorney can help you with this process. 
In March 2022 the U.S. Chamber of Commerce Institute for Legal Reform found that consumers and employees win more money, more often, and more quickly through arbitration than in litigation.
The study of more than 300,000 consumer and employment arbitration and court claims from 2014-2021 is reportedly the most comprehensive study undertaken of consumer and employment arbitration. The study found that in claims filed by consumers:
-Consumers were more likely to win in arbitration (almost 42 percent) than in court (about 29 percent).
-On average, consumers won more money through arbitration (almost $80,000) than in court (about $71,000).
-Arbitrations on average were resolved faster (321 days) than litigation (439 days).
The study also found that employees fared better in arbitration versus litigation: 
 -Employees were more likely to win in arbitration (almost 38 percent) than in court (almost 11 percent).
-On average, employees won more money through arbitration (around    $444,000) than in court (about $408,000).
-Arbitrations were resolved on average faster (659 days) than litigation (715 days). 
Resolving Securities Disputes through Arbitration and Mediation
There are two possible non-judicial proceedings in which you can resolve a disagreement or dispute with your financial advisor or broker; arbitration and mediation.  
Investors can file an arbitration claim or request mediation through FINRA when they have suffered investment losses with a brokerage firm or one of its representatives. Investors need to file their claim within six years of the alleged act, although there are some exceptions to the rule. See FINRA Rule 12206 Eligibility.  
FINRA Dispute Resolution is not the same as filing an investor complaint.  If you are looking to recover damages due to an unscrupulous or negligent broker, our FINRA arbitration attorneys can assist you filing a claim through FINRA and you can also file an investor complaint separately.  
FINRA Arbitration Process – How it works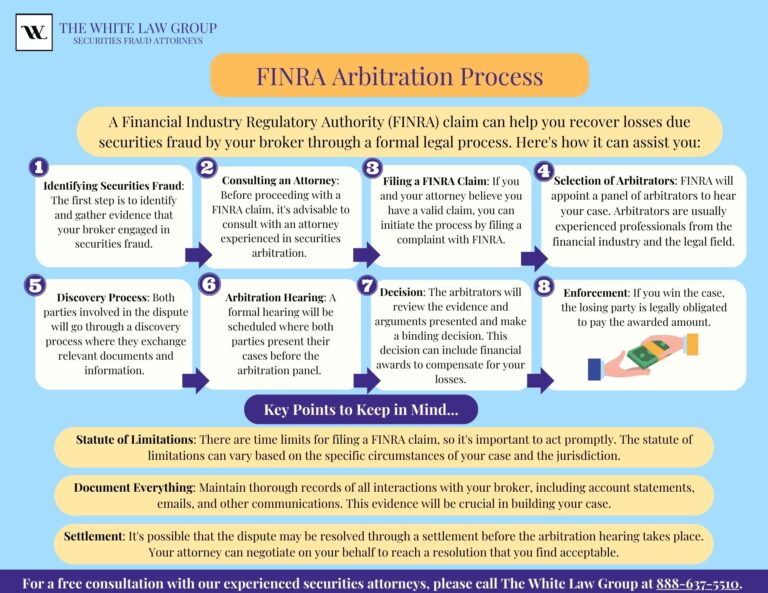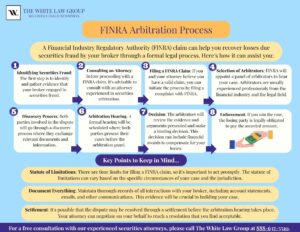 The FINRA arbitration process works differently depending on the size of the claim. Claims for damages of more than $100,000 require an in-person hearing decided by a panel of three arbitrators, with one chairing the hearing. One arbitrator is sufficient for smaller claims and if a claim is less than $50,000.  
With the help of an expereinced FINRA arbitration attorney, you can initiate the process by filing a Statement of Claim with FINRA. The claim outlines the details of the dispute, including the parties involved, the alleged wrongdoing, and the requested relief. You will pay a filing fee based on the amount of the claim. 
Next, FINRA provides a list of potential arbitrators to the parties involved. Each party has the opportunity to strike a certain number of arbitrators from the list, expressing any concerns about potential bias or conflicts of interest. Once the strikes are completed, a panel of three arbitrators is selected for the case. 
Then a preliminary hearing is held to discuss procedural matters and set the schedule for the FINRA arbitration process. During this stage, the parties may also exchange relevant documents and information through a process called discovery.
The arbitration hearing is the main phase of the process. It is similar to a trial but less formal. The parties present their cases, including witness testimony, evidence, and legal arguments, before the arbitration panel. The panel listens to the arguments, asks questions, and makes decisions based on the presented information. 
When an arbitration case goes to a hearing, it can take up to 16 months for an award to be determined.  The arbitrator's decision in the dispute is called an award and it is final and binding.  
What is FINRA Mediation?  
Mediation offers a flexible alternative to arbitration. It is an informal process in which a trained, impartial mediator oversees negotiations between disputing parties, helping them find a mutually acceptable solution.  It can be initiated at any time before arbitration begins and even during an arbitration case before it concludes.  Both parties in a dispute must agree to mediation. FINRA does not require parties to mediate.    
FINRA mediators may have expertise in certain subject matters, so parties can select a mediator who is knowledgeable in the securities or business area that they are contesting.  
Most of the FINRA mediations result in settlement, close to 80 percent, and the process is usually much faster than arbitration. Mediation is not binding until the parties reach and sign a settlement agreement, and it doesn't impose a solution. Since mediation is a voluntary process, it can be stopped by either party at any time.   
FINRA Arbitration Attorney for Brokers or Financial Advisors 
Not only does FINRA arbitration serve as a dispute resolution for resolving conflicts between brokers and their customers, its also frequently used for disputes among brokers and their employers.
Brokers may also find it necessary to engage the services of a FINRA arbitration attorney for various reasons including the following: 
Breach of Contract: If there is an employment contract between the broker and their employer, the broker may allege that the employer breached the terms of the contract. This could include a breach of compensation terms, failure to provide promised benefits, or violation of contractual obligations.  
Wrongful Termination: If the broker believes they were terminated unlawfully, they may bring a FINRA claim for wrongful termination. This could involve allegations of termination in violation of an employment contract, discrimination, retaliation, or violation of public policy. 
U4, U5 Expungement: If a broker has an unfair blemish on his broker profile/CRD, it may be possible to hire a FINRA Arbitration attorney to help with the expungement process. Expungement is considered an "extraordinary remedy" and arbitrators are told that they should only recommend it under appropriate circumstances.  
Promissory Notes: Many brokers receive an upfront payment when they start employment at a broker-dealer. These forgivable loans are often disguised as a signing bonus, retention incentive, or transitional compensation. They are enforced by the promissory note contract signed by the broker at the beginning of employment with the firm. If a broker receives a demand by the firm to pay the balance due on a promissory note, it may be possible to negotiate the remaining amount owed on the loan and the terms for paying off the debt with the help of a FINRA arbitration attorney. Negotiating with the firm may secure the broker a more favorable balance, interest rate, or payment schedule in order to pay down the obligation. 
Retaliation: If a broker engaged in a protected activity, such as reporting illegal conduct or filing a complaint against their employer, and subsequently experienced adverse employment actions, they may be able to file a FINRA claim for retaliation. This can include actions such as demotion, termination, or poor treatment.  
FINRA Inquiry or Wells Notice Response: When FINRA initiates any sort of investigation they will contact the registered persons affiliated with the action and/or the member firm. The preliminary portion of the investigation is informal, typically with FINRA or the SEC notifying the registered representative of the duty to supply information in any FINRA inquiry under Rule 8210. Having an experienced FINRA arbitration attorney, knowledgeable of the FINRA process, can help assure a sufficient response and possibly avoid a formal investigation. 
Fraud or Misrepresentation: If the broker can demonstrate that their employer made false representations or engaged in fraudulent conduct that induced them to take certain actions or make specific decisions, they may be able to file a FINRA claim for fraud or misrepresentation. 
Failure to Pay Commissions or Bonuses: If the broker is entitled to commissions or bonuses based on their employment agreement or industry practices, they may bring a claim against their employer for failure to pay these earnings.  
These are just a few examples of potential claims a broker may file against their employer. It's important for brokers to consult with an experienced FINRA arbitration attorney who can assess the specific circumstances to determine the appropriate causes of action in their case.  
Hiring a FINRA Arbitration Attorney 
If you have lost money in your investments or you are a broker in need of representation, please call the FINRA arbitration attorneys at The White Law Group. Representatives of our firm will go through an intake call with you and see if you have a viable claim. The attorneys will then evaluate your claim, and possibly move forward. 
The next steps will include specific document discovery obligations and paying a filing fee to FINRA and, of course, filing the claim. The attorneys at the White Law Group will walk you through the process. Our firm has handled over 700 FINRA arbitration claims and recovered millions of dollars for our clients throughout the United States.  
If you believe that you have a viable claim and would like to speak with a national FINRA arbitration attorney regarding your recovery options, please call the White Law Group at 888-637-5510 for a free consultation.     
The White Law Group, LLC is a national securities fraud, securities arbitration, investor protection, and securities regulation/compliance law firm dedicated to the representation of investors in FINRA arbitration claims against brokerage firms throughout the United States.      
Tags:
FINRA arbitration law firm
,
FINRA arbitration lawyer
,
FINRA Code of Arbitration Procedure
Last modified: September 22, 2023