Signs you may need an Investment Fraud Lawyer 
Are you worried about your investments? Something doesn't add up? If you think you have been swindled by your financial professional, the investment fraud lawyers at the White Law Group may be able to help you.  Let's take a look at the red flags of investment fraud.
Investment Fraud Scams in 2022  
According to a Federal Trade Commission report in February, consumers reported losing nearly $8.8 billion to fraud in 2022, an increase of more than 30 percent over the previous year. Consumers reported lost more than $3.8 billion to investment fraud scams, more than any other category in 2022. That is twice the amount reported in 2021.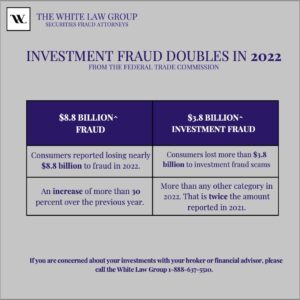 8 Red Flags of Investment Fraud 
While these signs don't guarantee you've been defrauded, they should raise your suspicion and prompt further investigation. Here are some common red flags to watch out for: 
Guarantee of High Returns: If it sounds too good to be true, it probably is. The promise of a high rate of return, with little or no risk, is a classic warning sign of investment fraud.  Every investment carries some degree of risk, and the potential for greater returns usually comes with greater risk.  Avoid putting money into investment opportunities that promise "guaranteed returns."

All investments carry some level of risk, and legitimate investments don't guarantee extraordinary returns.


2. Pressure to invest quickly: Fraudsters often create a sense of urgency, pressuring you to invest immediately before an opportunity vanishes. They may use high-pressure sales tactics or claim limited availability to manipulate your decision-making process. Legitimate investments allow you time to do research and make informed decisions.

A reputable financial professional won't push you to make an immediate decision about an investment.  If someone pressures you to decide on an investment without giving you time to do your research, walk away.
3. Lack of proper documentation: Legitimate investments involve proper documentation such as prospectuses, offering memoranda, contracts, or disclosure statements. If the investment opportunity lacks proper documentation or you are discouraged from seeking legal or financial advice, it's a red flag. 
4. Be leery of a free lunch… or dinner..or breakfast…  Free meal investment seminars may be used to lure new clients and to sell investment products, not to educate the public.  Even if the free meal does not come with a high-pressured sales pitch, it may come afterwards from the person selling the investment.

Unsolicited Investment Offers may be a Red Flag
5. Ponzi or pyramid schemes: Investments that rely heavily on recruiting new investors to pay returns to existing investors are characteristic of pyramid schemes. Ponzi schemes involve using new investors' funds to pay returns to earlier investors. Eventually, Ponzi schemes collapse when new investments halt.
6. Unsolicited investment offers: Be wary of unsolicited investment opportunities received through cold calls, emails, or social media messages. Legitimate investments are typically not offered out of the blue to strangers. Always do thorough research before considering any investment, especially if it comes unsolicited.
7. Difficulty withdrawing funds or delays in payments: If you encounter significant delays or face obstacles when trying to withdraw your money or receive promised returns, it could indicate an investment scam. Legitimate investments should allow you to access your funds according to agreed-upon terms.
8. Unlicensed or unregistered advisors: Be cautious if the person offering the investment opportunity is not properly licensed or registered to sell securities. Unauthorized individuals engaging in investment activities are could be operating illegally. 
An Easy way to Check your Broker – FINRA BrokerCheck 
How much do you actually know about your broker or financial advisor?  
Always check whether the person offering to sell you an investment is registered and licensed, even if you know him or her personally.  Researching the background of the individuals and firms selling you investments, including their registration/license status and disciplinary history, is easy and free. Just go to FINRA BrokerCheck where you can find the following information about your advisor:

High number of customer complaints

 

Employment at firms that have been expelled from the securities industry 

 

Employment terminations




Personal bankruptcy

 

Federal tax liens or judgments

 

Repeatedly moving firms

 

Regulatory Investigations




Failed industry qualification examinations

 

Suspensions or fines

 
It's so important to exercise due diligence and be aware of these investment fraud red flags when evaluating new opportunities. If you suspect fraud or encounter any red flags, you may need to consult an experienced investment fraud lawyer. 
FINRA Arbitration – Investment Fraud Lawyers

The investment fraud lawyers at The White Law Group can provide expert legal advice tailored to your specific situation. They can assess the merits of your case, explain your rights, and guide you through the legal process. They will help you understand the options available to you and develop a strategy to pursue your claim. Our attorneys can analyze financial records, transaction documents, and other relevant materials to uncover the fraud and identify responsible parties. 
The White Law Group can represent you in negotiations, mediation, arbitration, or litigation processes. If you are working with a brokerage firm, and signed an arbitration agreement, you will need an attorney experienced with FINRA Arbitration. Our attorneys will advocate for your rights and interests to help you recover your losses.  
In many cases, a settlement may be possible. The investment fraud lawyers at The White Law Group can negotiate with the opposing party to secure a fair settlement that compensates you for your losses. 
If you have suffered losses or suspect you are a victim of investment fraud, please contact the experienced investment fraud lawyers at The White Law Group. They can assess your case, provide personalized advice, and guide you through the legal process to maximize your chances of recovering your losses. For a free consultation, please call 888-637-5510. 
The White Law Group, LLC is a national securities fraud, securities arbitration, investor protection, and securities regulation/compliance law firm dedicated to helping investors in claims in all 50 states against their financial professional or brokerage firm. Since the firm launched in 2010, it has handled over 700 FINRA arbitration cases.               
Our firm represents investors in all types of securities fraud claims, including claims involving stock fraud, broker misrepresentation, churning, unsuitable investments, selling away, and unauthorized trading, among many others.                
With over 30 years of securities law experience, including experience working at FINRA and the SEC, The White Law Group has the expertise to help investors defrauded in securities, investment and financial business transactions attempt to recover their investment losses.                
With offices in Seattle, Washington and Chicago, Illinois, the firm reviews securities fraud cases throughout the country. For more information on the investment fraud lawyers at The White Law Group, please visit https://whitesecuritieslaw.com.        
Tags:
FINRA brokercheck
,
investment fraud lawyers
,
Investment fraud red flags
Last modified: June 16, 2023