What is FINRA BrokerCheck?
FINRA BrokerCheck provides easy access to background information on your financial advisor or broker.
The Financial Industry Regulatory Authority (FINRA) offers its BrokerCheck tool to help you research the professional backgrounds of brokers and brokerage firms, as well as investment advisor firms and advisors.
What is The Financial Industry Regulatory Authority (FINRA)?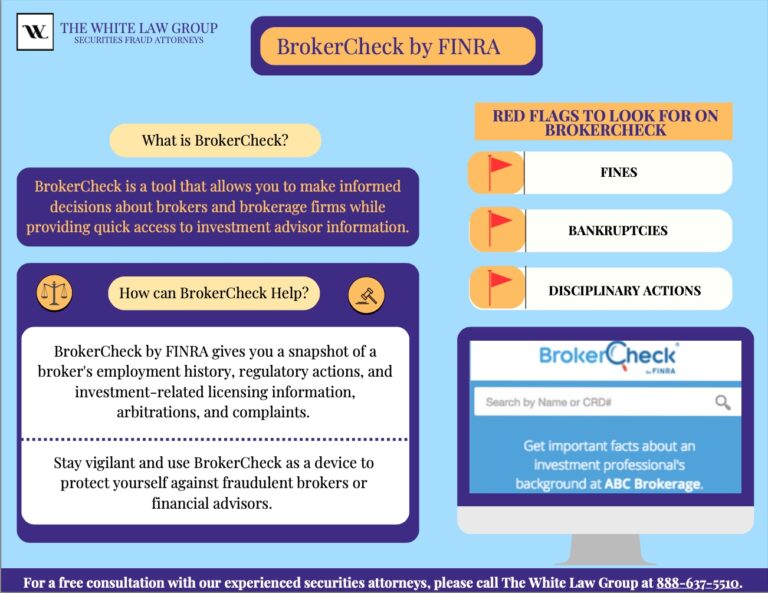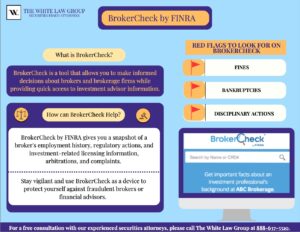 The Financial Industry Regulatory Authority (FINRA) is an independent, non-governmental regulator for all securities firms doing business with the public in the United States. FINRA is authorized by Congress to protect America's investors by making sure the securities industry operates freely and honestly. FINRA operates the largest securities dispute resolution forum in the United States, and provides a fair, efficient and effective venue to handle a securities-related dispute. The resolution of problems and disputes is accomplished through two non-judicial proceedings– arbitration and mediation.
FINRA also offers BrokerCheck as a free tool to assist you with the following:
Help you make informed choices about brokers and brokerage firms-and provides easy access to investment adviser information.
Tell you instantly whether a person or firm is registered, as required by law, to sell securities (stocks, bonds, mutual funds and more), offer investment advice or both.
Give you a snapshot of a broker's employment history, licensing information and regulatory actions, arbitrations and customer complaints.
How to use FINRA's BrokerCheck website
Go to FINRA's BrokerCheck.
Provide a Name or CRD Number
You can enter the firm's name or the representative's first and last name, however, common names can produce several results. You will be shown a list of legal names based on the name you input into the BrokerCheck system. In this case it helps to know the person's legal name. A better solution is to ask the representative for his or her CRD (Central Registry Depository) number and enter it.
Check the Summary
This page contains information about the exams he has passed, the firms that have held his licenses, and whether the individual has any disclosures on his record. Your primary interest should be disclosure events. Does he have any? Are they open or closed? How were they resolved?
Is the advisor registered?
If the advisor is no longer licensed by a brokerage firm the system will display "Not FINRA registered since month/year". This tells you the representative has let his securities licenses lapse which means he or she should be providing investment advice for compensation as a Registered Investment Advisor or Investment Advisor Representative.
What are the Broker's Qualifications?
Describes the representative's licensing at the national and state level. Make sure the representative is licensed to do business in your state. View the licensing examinations that have been successfully completed by this representative.
Registration & Employment History
Take a look at the representative's current and past employers. Is there a history of job-hopping? Any significant gaps in his or her employment?
Does the Representative have any Disclosure Events?
This is the most important section of the BrokerCheck service. An investor, the representative's company, or a regulatory agency can initiate an event that requires a disclosure that describes the complaint and the resolution. Disclosures may be serious, non-events, or frivolous. The most serious disclosures describe events with the following outcomes:
The representative participated in restitution to the investor
The representative was suspended from the industry
The representative was terminated by a company
A non-event disclosure occurs when the complaint is withdrawn. Frivolous complaints result in a ruling against the person or organization that initiated the complaint.
Watch out for advisors who have multiple disclosures on their records. You want to be cautious even if some of the complaints are frivolous. You may be surprised that repeat offenders can retain their licenses and continue to sell investment products to the public. That's why it is always important to check the advisor's FINRA record.
This information is provided by The White Law Group, a national securities fraud, securities arbitration, and investor protection law firm with offices in Chicago, Illinois and  Seattle, Washington.
The White Law Group, LLC is dedicated to helping investors in claims in all 50 states against their financial professional or brokerage firm. Since the firm launched in 2010, it has handled over 700 FINRA arbitration cases.   
Our firm represents investors in across the counrty in all types of securities related claims, including claims involving stock fraud, broker misrepresentation, churning, unsuitable investments, selling away, and unauthorized trading, among many others.    
To learn more about a recent claim filed by the firm, please see:
Free Consultation with a FINRA Attorney
If you invested with suspicious broker and would like to speak to a securities attorney to determine if your brokerage firm may be liable for your investment losses, please call the securities attorneys of The White Law Group at 888.637.5510 for a free consultation. 
For more information on The White Law Group, visit https://whitesecuritieslaw.com.
Tags:
Broker disclosures
,
Chicago broker fraud attorney
,
Chicago churning attorney
,
Chicago FINRA attorney
,
Chicago investment fraud attorney
,
Chicago securities attorney
,
Chicago securities lawyer
,
FINRA brokercheck
,
How to use BrokerCheck
,
Securities fraud attorney Chicago
,
What is BrokerCheck
Last modified: July 25, 2023