Lodging Fund REIT III Shareholders may have Claims
The White Law Group continues to investigate potential securities claims involving broker dealers who may have improperly recommended Lodging Fund REIT III to investors. If you suffered losses investing in Lodging Fund REIT III, the securities attorneys at the White Law Group may be able to help you.  
According to reports last week, the co-founder of Legendary Capital, a sponsor of non-traded Real Estate Investment Trusts (REITs), has agreed to settle charges with the Securities and Exchange Commission (SEC) by paying a civil penalty of $100,000. This settlement arises from allegations of improper expense reimbursements made to external advisors of Lodging Opportunity Real Estate Investment Trust and Lodging Fund REIT III Inc. 
The purportedly unauthorized expense reimbursements, totaling approximately $5 million, were allegedly directed to Legacy Hospitality II LLC and Legendary Capital REIT III LLC, both of which are co-owned by the executive in question. As a result of these alleged actions, the advisors have been ordered to disgorge approximately $4.8 million, which includes both the reimbursed funds, interest, and civil penalties, to the SEC. 
The REITs reportedly involved in this case did not have their own employees but were managed externally by Legacy Hospitality II LLC and Legendary Capital REIT III LLC. These advisors, in turn, allegedly hired employees to conduct business activities on behalf of the REITs and incurred various overhead expenses, including payroll and office rent, related to their services for the REITs. 
"Improper Expense Reimbursements"
In 2014, Lodging Opportunity Fund REIT reportedly began soliciting investments, while Lodging Fund REIT III followed suit in 2018. Both of these REITs distributed private offering memoranda (OMs) to potential investors. These OMs contained information regarding the fees and expenses associated with acquiring and owning hotel properties. Notably, both OMs explicitly stated that the advisors would shoulder the burden of overhead costs related to office maintenance and employee expenses. 
However, despite these representations, Legacy Hospitality II, the advisor for Lodging Opportunity Fund REIT, allegedly began requesting reimbursement for its overhead expenses starting in 2014. Similarly, for a brief period in 2018, Legendary Capital REIT III, the advisor for Lodging Fund REIT III, also allegedly sought similar reimbursements.
The Securities and Exchange Commission (SEC) has stated that the reimbursement of overhead expenses by the REITs contradicted the disclosures provided to investors, which clearly stated that Legacy Hospitality II and Legendary Capital REIT III were responsible for covering these expenses. Over the relevant period, these expenses primarily included payroll and office rent and amounted to approximately $5 million. To learn more, see: Lodging Fund REIT III Update on Investigation  
Non-traded REITs are Complex Investments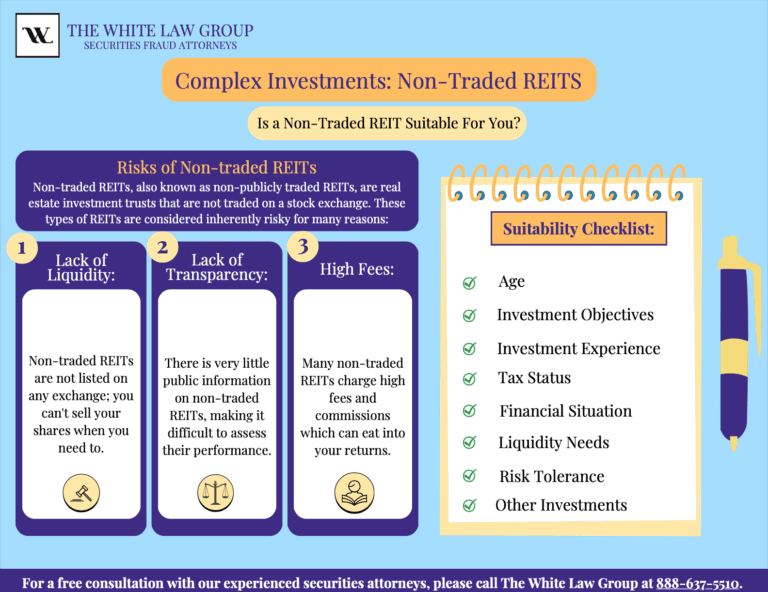 Non-real estate investment trusts (REITs) are complex and inherently risky products. Unfortunately for investors, many hospitality REITs have taken a hit due to the steadily rising interest rates, and some have suspended distributions during this uncertain time.  
Compared to traditional investments, such as stocks, bonds and mutual funds, REITs are significantly more complex and often better suited for sophisticated and institutional investors.  
Another problem often associated with REIT recommendations is the high sales commissions brokers typically earn for selling REITs – as high as 15%.  In addition to the high risks, non-traded REITs often lack liquidity. Investors looking to sell these investments often have difficulty finding a buyer, and if they are able to find one can suffer significant losses on the sale.   
Brokerage firms are required by the Financial Industry Regulatory Authority (FINRA) to disclose all the risks of an investment, prior to making recommendations to an individual investor. Recommendations should only be made if the investment is suitable for an individual investor given their age, investment objections, investment experience and risk tolerance.  
Brokerage firms that do not perform adequate due diligence on an investment and/or make unsuitable recommendations can be held accountable for investment losses through FINRA arbitration.  
Recovery of Investment Losses – Lodging Fund REIT III
If you are concerned about your investment in Lodging Fund REIT III, you may be able to file a complaint against your brokerage firm. Please call the securities attorneys of The White Law Group at 888-637-5510 for a free consultation.

 
The White Law Group, LLC is a national securities fraud, securities arbitration, investor protection, and securities regulation/compliance law firm dedicated to helping investors in claims in all 50 states against their financial professional or brokerage firm. Since the firm launched in 2010, it has handled over 700 FINRA arbitration cases.         
Our firm represents investors in all types of securities related claims, including claims involving stock fraud, broker misrepresentation, churning, unsuitable investments, selling away, and unauthorized trading, among many others.          
With over 30 years of securities law experience, The White Law Group has the expertise to help investors defrauded by their financial advisor.  For more information, please visit our website, whitesecuritieslaw.com.    
Tags:
Lodging Fund REIT III
Last modified: September 7, 2023