Knight Energy Holdings LLC listed 11 Companies in the Chapter 11 petition
Knight Energy Holdings, LLC operates as a holding company. The company, through its subsidiaries, provides manufacturing packages, drilling jars, inspection, hardbanding, and safety training services to the oil and gas industry. Knight Energy serves customers worldwide, according to Bloomberg.
According to court documents, Knight Energy Holdings LLC has filed for Chapter 11 bankruptcy.
The Lafayette-based company filed the bankruptcy petition Tuesday stating the company's debt ranges from $100 million to $500 million with its assets ranging from $50 million to $100 million.
Knight Energy Holdings reportedly listed 11 companies as subsidiaries and three affiliate companies in the petition: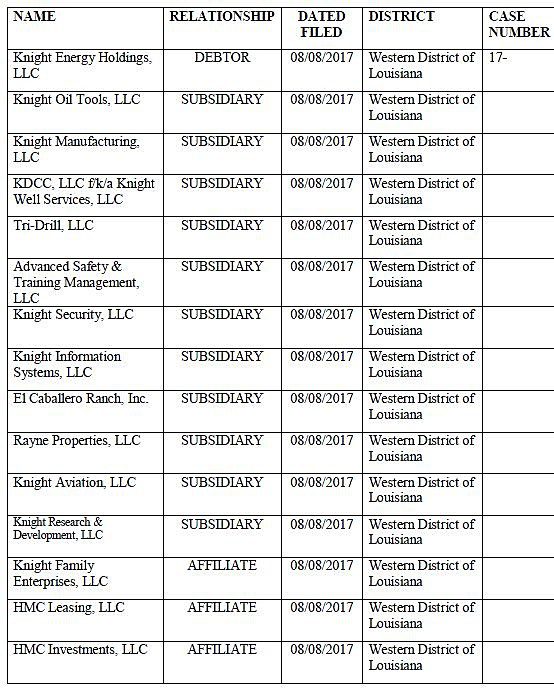 According to numerous reports, the company has faced years of turmoil following an alleged racketeering scandal involving Knight administrators and local LA law enforcement.
Mark Knight and three others were indicted by a grand jury on July 29th, 2015, in an alleged plot to get Knight's brother, Bryan Knight, out of the family business, Knight Oil Tools.
Also reportedly indicted with Knight was Jason Kinch, a former Lafayette Parish Sheriff's Deputy; Corey Jackson, a former Louisiana State Trooper; and a former Knight Oil Tool employee Russell Manuel. The four were indicted on racketeering charges.
Free Consultation
This information, which is publicly available, has been provided by The White Law Group.
If you have questions about investments you made with Knight Energy Holdings or an affiliate, the securities attorneys of The White Law Group may be able to help you.  For a free consultation with a securities attorney, please call 888-637-5510.
The White Law Group, LLC is a national securities fraud, securities arbitration, investor protection, and securities regulation/compliance law firm with offices in Chicago, Illinois and Vero Beach, Florida. The White Law Group handles securities cases throughout the nation.
For more information on The White Law Group, and its representation of investors, please visit our website at https://whitesecuritieslaw.com.
Tags:
Chicago securities attorney
,
Chicago securities lawyer
,
HMC Investments
,
HMC Leasing
,
Knight Aviation
,
Knight Energy Holdings bankruptcy
,
Knight Energy Holdings Chapter 11
,
Knight Energy Holdings complaints
,
Knight Energy Holdings default
,
Knight Energy Holdings investigation
,
Knight Energy Holdings investment losses
,
Knight Energy Holdings Lafayette
,
Knight Energy Holdings lawsuit
,
Knight Energy Holdings LA Knight Energy Holdings class action
,
Knight Energy Holdings losses
,
Knight Information Systems
,
Knight Manufacturing
,
Knight Oil Tools losses
,
Knight Security
,
Knight Well Services
,
Pierce
,
Rayne Properties
,
Tri-drill LLC
,
Vero Beach securities attorney
,
Vero Beach securities lawyer
Last modified: November 21, 2018