What is Investment Cold Calling?
Investment cold calling is a marketing and sales practice where financial professionals, such as brokers, financial advisors, or investment firms, contact potential clients or investors by phone without any prior relationship or solicitation from the recipient. Cold calls are unsolicited, meaning they are made to individuals who may not have expressed any interest in the products or services being offered.
For many businesses, including securities firms, cold calling serves as a legitimate way to reach potential customers.  But sometimes serious trouble and financial losses await you at the other end of the line.  You may be pressured to buy a bad investment.  Or the investment might be a scam.  
Many securities firms telephone investors they do not know to sell stocks and other investments.  These "cold calls" can serve as a legitimate way of reaching new customers, but they can also lead to trouble.  Dishonest brokers may pressure you to buy a bad investment or a scam.  Whether the calls are annoying, abusive, or downright crooked, you can stop cold calling. 
Cold Calling Regulations
The law protects you by requiring cold callers to follow several rules: 
Cold callers may only call you at home between 8:00 a.m. and 9:00 p.m. These time restrictions do not apply if you are already a customer of the firm or you've given the firm permission to call you at other times.  Cold callers may call you at work at any time.

 

Cold callers must say who's calling and why.  Cold callers must promptly tell you their name, their firm's name, address or telephone number and that the purpose of the call is to sell you an investment.

 

Cold callers must put you on their "Do Not Call" list, if you ask.  Every securities firm must keep a "Do Not Call" list.  If you want to stop sales calls from that firm, tell the caller to put your name and telephone number on the firm's "Do Not Call" list.  If anyone from that firm calls you again, get the caller's name and telephone number, note the date and time of the call, and complain to the firm's compliance officer, the SEC, and your state's securities regulator.

 

Cold Caller must avoid calls to you if you are on the National "Do Not Call" Registry managed by the Federal Trade Commission.  If you want to sign up, go to 

https://www.donotcall.gov/

.  Cold callers cannot call you if you are on this registry, unless you are already a customer, you previously gave written permission, or the caller is a family member, friend, or acquaintance.  However, even if any of those exceptions apply, you can still stop calls by asking the caller to put your name and telephone number on the firm's "Do Not Call" list.  The FTC also accepts 

online complaints

 about unwanted calls from those on the National "Do Not Call" registry.

 

Cold callers must get your written approval before taking money directly from your bank accounts.  Before investing, you should always get answers to your questions and written information about the investment.  If you decide to buy from a cold caller, do not give your checking or savings account numbers to the broker over the phone. Brokers must get your written permission – such as your signature on a check or an authorization form – before they can take money from your checking or savings account.

 

Cold callers must tell you the truth.  People selling securities must tell you the truth.  Brokers who lie to you about any important aspect of an investment opportunity violate federal and state securities laws.

 
Brokerage Firms in the News
Brokerage firms can get into trouble for cold calling if they engage in unlawful or unethical practices. Cold calling is a common method used by brokerage firms to reach potential clients, but it must be conducted in compliance with regulatory rules and guidelines to protect consumers. Here are a couple of examples:
Merrill Lynch pays $1.4 Million for Cold Calling Violations
In March 2023, Merrill Lynch agreed to pay $1.4 million in fines for inappropriate cold calling by its trainees from 2018 to 2020. The issue was self-reported by Merrill Lynch, leading to separate consent orders with FINRA and the New Hampshire Bureau of Securities Regulation. Each agency will receive $700,000 in fines related to the self-reported cold calling incidents. The problem stemmed from Merrill's failure to establish a proper supervisory system to prevent trainees from making unsolicited telemarketing calls to individuals on the national do-not-call registry and the firm's internal do-not-call list. 
While Merrill had a policy against calling these numbers, their supervisory system was deficient. They didn't consider numbers that trainees called but didn't log as prospective clients in their content management system during monthly telemarketing compliance reviews of 200 randomly selected trainees. Merrill has since implemented improved call screening and supervisory review technology, enhanced supervisory procedures, provided advanced training, and begun monitoring all outgoing trainee calls for compliance with Rule 3230 after the issue was identified in 2019. 
Edward Jones Sanctioned for Cold Calling
Edward Jones has agreed to pay $750,000 to settle allegations that it unlawfully contacted New Hampshire residents whose phone numbers were registered on the National Do Not Call Registry. The New Hampshire Bureau of Securities Regulation accused the firm of soliciting clients who were on do-not-call lists and found instances where Edward Jones financial advisers failed to respect requests from New Hampshire residents to be added to the firm's own do-not-call list. Additionally, the bureau alleged that Edward Jones, which has 50 branch offices in the state, didn't adequately train and supervise its brokers regarding telephone solicitation. FINRA Rules also prohibit members from making phone solicitations to individuals on the Federal Trade Commission's do-not-call registry. 
Boiler Room Cold Calling in 2023
According to The Financial Industry Regulatory Authority (FINRA)'s National Cause and Financial Crimes program, boiler room operations continue as a method to promote fraudulent investment schemes. These boiler rooms typically function as outbound call centers, where promoters employ aggressive sales tactics aimed at retail investors. They pitch highly speculative, and often fraudulent, investment opportunities. In today's digital age, boiler rooms have expanded their reach by utilizing modern communication channels, including messaging apps and social media platforms. 
Irrespective of the mode of communication, the objective of these scammers remains consistent: to employ high-pressure strategies and persuasive language to convince investors to purchase specific investments, ultimately benefiting the fraudster. 
Red flags for Investment Cold Calling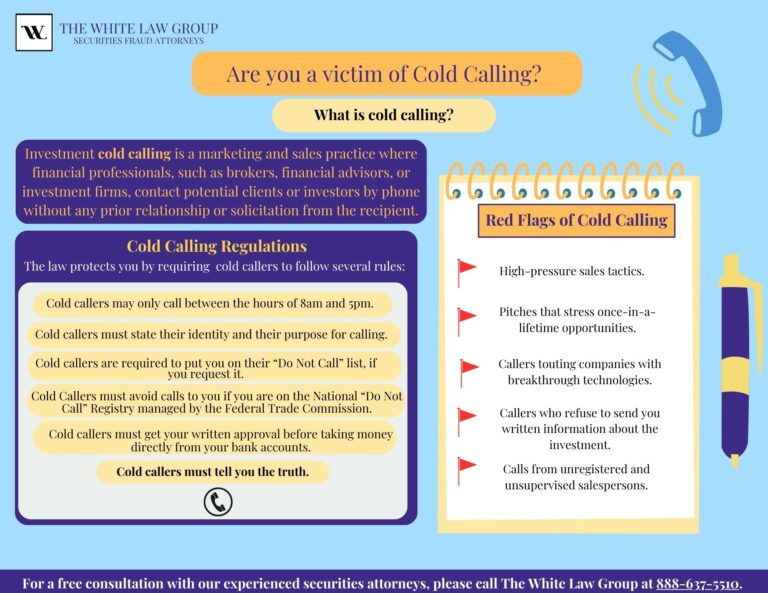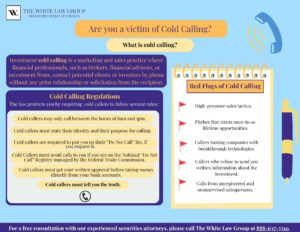 – High-pressure sales tactics If you are feeling like you are being pushed at your every response and are not having a conversation, but are being hard sold, this may be a concern. 
– Pitches that stress once-in-a-lifetime opportunities Often investment opportunities that sound too good to be true are, especially if the caller claims to base this on inside or confidential information (which is against regulations). 
– Callers touting companies with breakthrough technologies According to the SEC, "These technologies play off of legitimate technologies, but at the same time sound just a little too good to be true." 
– Callers who refuse to send you written information about the investment. This may be a red flag and a way to pressure you into a quick decision. 
– Calls from unregistered and unsupervised salespersons. As with all securities purchases, it is good practice to check out the broker-dealer you are buying from. You can do this with the broker check function on FINRA.org and it is free. If a broker is not registered, this may be a red flag. 
What to do if you are Receiving Unwanted Cold Calls
– Be proactive with cold calls. Report "abusive cold callers" to the SEC, FINRA, FTC or state securities regulators, this may help protect others from being hassled or taken advantage of. Be sure to tell cold callers that are rude or intrusive to not call again. Another tactic of cold callers is to try to befriend you; it may not be advisable to develop a personal relationship with a telemarketer you don't know. 
– If you want to invest with a telemarketer, the SEC encourages you to do your homework. Check out the broker's registration with FINRA or other agency. Do outside research before agreeing to the deal. Also, get a second opinion about the deal, preferably from a financial professional or attorney. 
To learn more, you visit the cold call alert issued by the SEC: http://www.sec.gov/investor/pubs/coldcall.htm 
FINRA Lawyers & Securities Attorneys 
This information is all publicly available and provided by the securities fraud attorneys at The White Law Group.  
If you have suffered losses in an investment as a result of being cold called by a broker, please call the securities fraud attorneys of The White Law Group at 888-637-5510 for a free consultation. 
The White Law Group, LLC is a well-established law firm specializing in national securities fraud, securities arbitration, investor protection, and securities regulation/compliance. With offices in Seattle and Chicago, our primary focus is assisting investors from all 50 states in their claims against financial professionals or brokerage firms. Since our inception in 2010, we have successfully handled over 700 FINRA arbitration cases.  
Our dedicated attorneys are committed to representing investors in a wide range of securities-related claims. These include cases involving stock fraud, broker misrepresentation, churning, unsuitable investments, selling away, unauthorized trading, and more.  
With a collective experience of over 30 years in securities law, The White Law Group possesses the necessary expertise to assist defrauded investors in their pursuit of recovering their investment losses. To learn more about our services, please visit our website at whitesecuritieslaw.com.  
Tags:
cold calling
Last modified: September 14, 2023