Concerned about your investment losses in Ark Innovation ETF Auto Callable Notes? 
Auto Callable Contingent Interest Notes Linked to the ARK Innovation ETF due July 19, 2023 is a structured note sponsored by JP Morgan Chase Financial. Ark Innovation ETF (ARKK) is an actively managed exchange-traded fund that invests primarily  in domestic and foreign equity securities of companies that are relevant to the fund's investment theme of disruptive innovation. 
Ark Innovation ETF Auto Callable Notes – High Risk Investment  
According to the prospectus, the Ark Innovation ETF Auto Callable Notes do not guarantee the repayment of principal and do not provide for the regular payment of interest.  The securities offer the potential for periodic contingent coupon payments at an annualized rate that, if all are paid, would produce a yield that is generally higher than the yield on conventional debt securities of the same maturity. With the opportunity for higher yields, comes greater risks including the risk of losing your entire initial investment, according to the prospectus.  
Auto Callable Notes – What are they?
Auto Callable structured notes offer investors the potential to achieve higher returns compared to traditional investments like bonds or stocks, while also providing some protection against downside risks. However, it's important to note that these notes are considered high risk and complex financial products.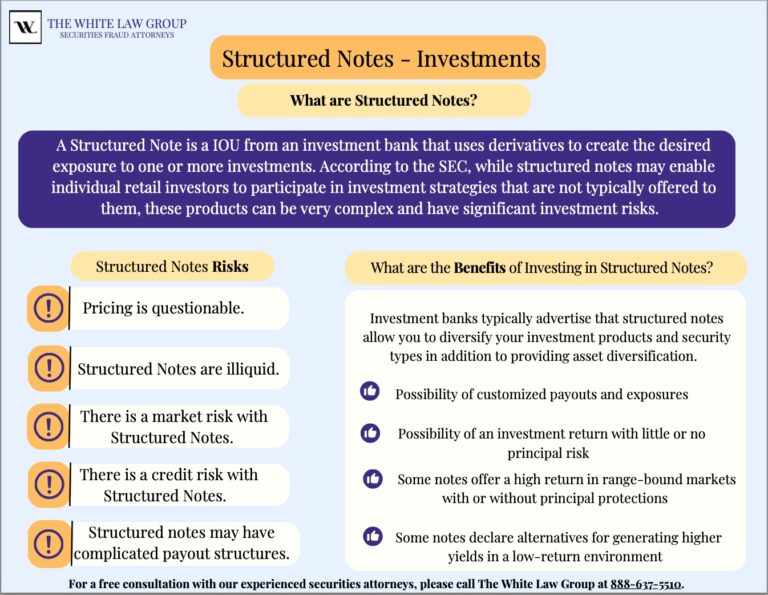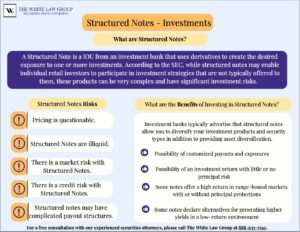 When you invest in an Auto Callable structured note, you essentially purchase an investment similar to a bond, which is linked to an underlying asset or index, such as the Ark Innovation ETF. The note has a maturity date, indicating when you will receive your initial investment back. In the case of this note, the underlying asset is the Ark Innovation ETF. 
One notable feature of Auto Callable structured notes is the "auto-call" feature. If the underlying asset or index reaches a predetermined level at any point before the maturity date, the note will be "called" and you will receive a predetermined payout. This payout is typically higher than the interest you would have earned if you had held the note until maturity. 
These notes may be appealing to investors seeking greater potential returns than traditional investments while maintaining some downside protection. However, it's important to recognize that they are complex instruments and may not be suitable for all investors. 
There are additional risks associated with investing in Ark Innovation ETF Auto Callable notes: 
Default Risk: Since Auto Callable structured notes are typically issued by financial institutions, there is a risk that the issuer may default on their obligations. In such cases, investors could experience a loss of their principal investment.

 

Market Fluctuations: The value of Auto Callable structured notes depends on the performance of the underlying asset(s). If the market experiences significant fluctuations, the value of the notes may decline.

 

Limited Market and Resale Restrictions: These notes may not be easy to sell, especially if there is a limited market for them or if there are restrictions on their resale.

 

Complexity and Misunderstandings: Auto Callable structured notes are complex products, which may be challenging for investors to fully understand. This complexity can lead to misunderstandings regarding the associated risks or the terms of the investment.

 

Early Redemption: These notes often include a call feature, allowing the issuer to redeem them before maturity. If the notes are called early, investors may miss out on potential future gains.

 
It's essential to carefully assess these risks and consider seeking professional advice before investing in Auto Callable structured notes tied to the Ark Innovation ETF or any other similar financial products. 
Recovery of Investment Losses 
The White Law Group is investigating the liability that brokerage firms may have for recommending complex, often extremely high-risk, structured notes such as Ark Innovation ETF Auto Callable Notes  
With the market in turmoil, many investors who purchased such investments believing they provided downside protection or were akin to bonds because of the dividend component are instead finding that these products can indeed suffer enormous losses.   
Brokers often pitch structured products, as providing "downside protection" against losses to a related index while allowing modest upside gain potential. Of course, this is only true if the value of the index doesn't fall below a predetermined price. If the price falls below that point, the losses in structured notes can still be huge.   
These products typically pay a high fee to the financial advisors that sell them.   
Brokerage firms have two main duties in recommending structured callable notes linked to equity investments or indexes.  First, brokerage firms are required to perform adequate due diligence on any product they recommend. Second, brokerage firms are required to ensure that all recommendations made are suitable for their client in light of the client's age, investment experience, net worth, income, and investment objectives.   
If a brokerage firm fails to do either of these things, the firm can be held responsible in a FINRA arbitration claim.   
Hiring a Securities Attorney   
The White Law Group, LLC is a national securities fraud, securities arbitration, investor protection, and securities regulation/compliance law firm dedicated to helping investors in claims in all 50 states against their financial professional or brokerage firm. Since the firm launched in 2010, it has handled over 700 FINRA arbitration cases.     
Our firm represents investors in all types of securities related claims, including claims involving stock fraud, broker misrepresentation, churning, unsuitable investments, selling away, and unauthorized trading, among many others.      
With over 30 years of securities law experience, The White Law Group has the expertise to help investors defrauded in securities, investment and financial business transactions attempt to recover their investment losses.  The firm reviews securities fraud cases throughout the country.   
If you have suffered losses investing in Ark Innovation ETF Auto Callable Notes, the securities attorneys of The White Law Group may be able to help.  For a free consultation, call the firm's office at 888-637-5510.    
For more information on The White Law Group, please visit our website at https://whitesecuritieslaw.com.   
Tags:
Ark Innovation ETF
,
Auto Callable Contingent Coupon Equity Linked Securities Linked to Ark Innovation ETF
,
JP Morgan Chase Financial.
,
securities attorneys
,
structured products
Last modified: July 11, 2023